Nesta Hanoi Hotel 2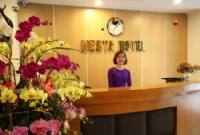 Address:
73 To Hien Thanh Str, Hai Ba Trung Dist, Hanoi, Vietnam
Email:
fohn2@nestahotel.com.vn
Website:
http://www.nestahotel.com.vn
Nesta Hanoi Hotel 2 boasts the contemporary designs and dedicated services from the centre of Hanoi.
We always make sure your stay with Nesta Hanoi – To Hien Thanh is exclusively indulgent and totally hassle-free. Enjoy Hanoi's charismatic landmarks just a few door steps away and make yourself comfortable in our graceful yet vibrant settings.
Nesta Hanoi Hotel 2 - designed from design, stylish furniture to chic amenities would satisfy customers while staying in here. Hotel has a total of 46 bedrooms equipped modern facilities, 01 basement, 01 lift, 01 restaurant and cafe area in the lobby. There are three kinds of bedroom such as: Deluxe Room, Luxury Room and Executive Suite room.
We offer impeccable service and excellent value for the business or pleasure travelers, a really comfortable and memorable stay. Our team have a great passion in tourism and hospitality industry. Our core target is to bring customer with a welcome feeling like HOME at the Nesta Hotel. You will find in every staff here with not only professional in duties but also a trusted travel companion in Hanoi, Vietnam. The Nesta hotel would be one of your best choices for business or leisure travelers in Hanoi.

Thank you for you email. We did indeed have a wonderful time in Vietnam and I could not fault your service in any way ...


Everything went very well, the guides were excellent meeting schedule with professionalism and friendliness. The hotels and although they were not accounted for luxury, service and facilities were excellent level, ...

Copyright 2023 by Tuan Linh Travel Co., Ltd.
A member of Vietnam Travel Promotion Group (
VTP Group
)
Address: Room 509, 15T2 Building, 18 Tam Trinh Str., Hai Ba Trung District, Hanoi, Vietnam (
See map
)
Tel: +84.24.62768866 / mail[at]tuanlinhtravel.com
Online: 150
Visited: 1967