Lenid Hanoi Hotel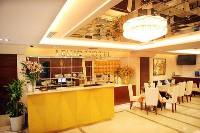 Address:
19 Trieu Viet Vuong, Hanoi, Vietnam
Email:
info@lenidhanoihotel.com
Website:
http://www.lenidhanoihotel.com
LeNid Hanoi hotel is conveniently located at the center of Hanoi city. This exclusive residence, the newest luxury hotel in Vietnam's capital, is unlike any other property in this dynamic city. Sited only minutes from Hanoi's famed Hoan Kiem Lake and the fabled shopping streets of the city.
Our 54 luxurious rooms are emphasizing refined glamour, timeless elegance and luxurious comfort, each room and suite is tastefully designed to create a welcoming and inviting atmosphere. In addition to such modern amenities as IDD, centralized air-conditioning, 32 inch LCD TVs, satellite TVs with special Japanese channel: NHK Premium, NHK World, NHK G, Fuji, Asahi, Tokyo, Nihon , TBS TV. Wi-Fi internet access, mini-bars and safety boxes, service is paramount as the LeNid Hanoi hotel aims to set a new standard in boutique hotel accommodation.

Thank you for you email. We did indeed have a wonderful time in Vietnam and I could not fault your service in any way ...


Everything went very well, the guides were excellent meeting schedule with professionalism and friendliness. The hotels and although they were not accounted for luxury, service and facilities were excellent level, ...

Copyright 2022 by Tuan Linh Travel Co., Ltd.
A member of Vietnam Travel Promotion Group (
VTP Group
)
Address: Room 509, 15T2 Building, 18 Tam Trinh Str., Hai Ba Trung District, Hanoi, Vietnam (
See map
)
Tel: +84.24.62768866 / mail[at]tuanlinhtravel.com
Online: 150
Visited: 1967