Dahlia Hotelw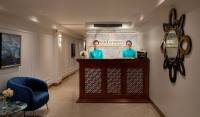 Address:
18 Hang Duong Street, Hoan Kiem District, Hanoi City, Vietnam.
Please
contact us
for getting best prices!
Hanoi is a city of enchantment, one that captivates the imagination and thus provides an ideal starting point from which to discover Hanoi, a city that has preserved its cultural heritage to an amazing degree, exquisite restaurants and legendary nightlife. The combination of classic European and Asian architecture, bearing the fine art in each interior detail, all create the luxury accommodation and outstanding service for Dahlia Hotel Ha Noi.
Always taking toward the perfection in professionalism and continuously putting effort to bring the differences to the guest's experience, Dahlia Hotel Ha Noi commits the most value and great pleasure for your trip.
Whether your stay is for business or pleasure, you can be assured of the ultimate in both comfort and service. All 50 guest rooms and Studio rooms provide an enriching, warm feel and a beautiful panoramic view of the city, All rooms offer an incomparable style of simplicity and elegance with bathrooms open into bedrooms. Luxurious spacious studio rooms enhanced with Vietnamese furnishings and artifacts, offer every facility expected by discerning guests. Relaxing with city view and essential comforts, including a queen, king or twin beds, a bathroom with both a tub and shower, a work desk, free WiFi and cable television, tea and coffee making facilities, a mini bar, free bottled water, individually controlled air conditioning and personal safety box.
DINING
Best dining experience: the captivating view of the city and exceptional gastronomy guarantee an unrivalled epicurean experience in our rooftop restaurant. The pleasing setting of the restaurant with the view of city is an ideal place for your breakfast and is also available for group's lunches and dinners. One bar is also the place to meet in relaxed a cozy atmosphere, serving coffee, tea and a selection of drinks with snacks, refreshing beverages

Thank you for you email. We did indeed have a wonderful time in Vietnam and I could not fault your service in any way ...


Everything went very well, the guides were excellent meeting schedule with professionalism and friendliness. The hotels and although they were not accounted for luxury, service and facilities were excellent level, ...

Copyright 2023 by Tuan Linh Travel Co., Ltd.
A member of Vietnam Travel Promotion Group (
VTP Group
)
Address: Room 509, 15T2 Building, 18 Tam Trinh Str., Hai Ba Trung District, Hanoi, Vietnam (
See map
)
Tel: +84.24.62768866 / mail[at]tuanlinhtravel.com
Online: 150
Visited: 1967