Queen's Finger Hotel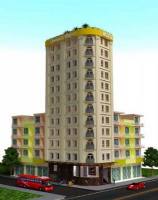 Address:
155-157 Le Quang Dao Street, Ngu Hanh Son District, Danang City, Vietnam
Email:
info@queensfingerhotel.com
Website:
http://www.queensfingerhotel.com
Following the branded of Gopatel 4 stars hotel and King's finger 3 stars hotel. Queen's finger 3stars hotel has been borning and developing based on the service quality that is given to top priority to meet the requirement of the customer.
Queen's finger hotel is located at 155-157 Le Quang Dao street, Ngu Hanh Son District, Da Nang City at beautiful My Khe Beach, it is built by creativeness and delicacy with shining yelow crown with a combined between classic and modern essence of French architecture.
The Queen's finger hotel has 12 floors and, comprise 56 luxurious and modern rooms. All rooms have fantastic view of the sea and city view, have airy air and cool space where you can enjoy the sunrise as well as the sunset. Specially, the top floor is a bar and an infinity swimming pool with 100 square meter, the bar desiged surround L-shaped swimming pool and row of green coconut tree. You can enjoy your favorite drink and from the bar and also relax in the cool waters of our pool.
Just 7 minutes – driver from Danang International Airport, 5 minutes from city center and few hundred meters from the beach, the hotel is ideal for traveller you to immerse in beautiful blue water stream, one of the six most beautiful beaches as well as enjoy fresh seafood.
Besides, restaurant and conference rooms have modern facilities with capacity of 100 guests.
You can choose the best and fastest at hotel. You will be supported and advisory enthusiastically about tour products, famous scenic by our friendly and professional staff.
Your return is always our happiness and our success. Queen's finger Hotel aims to became one of the most favourite hotels in Da Nang city to serve customers perfectly.

Thank you for you email. We did indeed have a wonderful time in Vietnam and I could not fault your service in any way ...


Everything went very well, the guides were excellent meeting schedule with professionalism and friendliness. The hotels and although they were not accounted for luxury, service and facilities were excellent level, ...

Copyright 2023 by Tuan Linh Travel Co., Ltd.
A member of Vietnam Travel Promotion Group (
VTP Group
)
Address: Room 509, 15T2 Building, 18 Tam Trinh Str., Hai Ba Trung District, Hanoi, Vietnam (
See map
)
Tel: +84.24.62768866 / mail[at]tuanlinhtravel.com
Online: 150
Visited: 1967