Grand Sunrise Hotel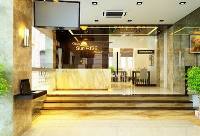 Address:
32 Ha Chuong, Phuoc My Ward, Son Tra Dist, Da Nang City, Vietnam
Email:
grand_sales@sunrisedanang.com
Website:
http://grand.sunrisedanang.com
Grand Hotel Sunrise is a peaceful and charming in a prime location in the coastal city of Da Nang . Here , you just take less than 3 minutes walk to the famous My Khe beach , and 10 minutes on cars to move from Da Nang International Airport to the hotel. Grand Sunrise is located between intersections of the attractive tourist destinations such as Ba Na , Hoi An , Cham Joint Institute , etc. In addition to unleash immersed in the deep blue waters of My Khe Beach – one of the 10 most beautiful beaches ( Forbes ) , tourists have the opportunity to admiring the famous Bridge of Da Nang , especially Dragon bridge and Tran Thi Ly Bridge .
Designed in the style interference between Asian and European architectural alternative , hotel resorts are considered ideal for tourists to Da Nang .
With the slogan " Get over what to expect " , we always strive to provide and satisfy you with modern facilities as well as a polite no respite , an airy top . Grand Sunrise hotel (3 star hotel) always wanted affirming the brand and its position in the tourists in the country and abroad .

Thank you for you email. We did indeed have a wonderful time in Vietnam and I could not fault your service in any way ...


Everything went very well, the guides were excellent meeting schedule with professionalism and friendliness. The hotels and although they were not accounted for luxury, service and facilities were excellent level, ...

Copyright 2023 by Tuan Linh Travel Co., Ltd.
A member of Vietnam Travel Promotion Group (
VTP Group
)
Address: Room 509, 15T2 Building, 18 Tam Trinh Str., Hai Ba Trung District, Hanoi, Vietnam (
See map
)
Tel: +84.24.62768866 / mail[at]tuanlinhtravel.com
Online: 150
Visited: 1967