Charming Riverside Hotel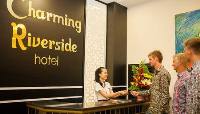 Address:
Number 5 Lane 27 Nguyen SinhCung Street, Hue ,Vietnam
Email:
charmingriversidehotel@gmail.com
Website:
http://www.charmingriversidehotel.com/
Charming Riverside hotel is located in the heart of Hue city, within walking distance of the ancient Truong Tien Bridge overlooking the timeless Huong River, divided by the quaint Hen Islet, which continues to maintain the old charm of traditional rural life, culture and food.
The 25 fully-furnished rooms at Charming Riverside hotel are equipped with modern facilities and amenities to provide guests with a comfortable stay. The highlights ofCharming Riverside hotel include savouring authentic Hue cuisine in our restaurant at the terrace of the hotel, standing here you can have an overall view of Huong river and the city.
We warmly welcome all tourists to our newly furnished, clean and well-equipped Charming Riverside hotel, staffedbywell-experienced, friendly and helpful personnel.

Thank you for you email. We did indeed have a wonderful time in Vietnam and I could not fault your service in any way ...


Everything went very well, the guides were excellent meeting schedule with professionalism and friendliness. The hotels and although they were not accounted for luxury, service and facilities were excellent level, ...

Copyright 2023 by Tuan Linh Travel Co., Ltd.
A member of Vietnam Travel Promotion Group (
VTP Group
)
Address: Room 509, 15T2 Building, 18 Tam Trinh Str., Hai Ba Trung District, Hanoi, Vietnam (
See map
)
Tel: +84.24.62768866 / mail[at]tuanlinhtravel.com
Online: 150
Visited: 1967