Book a trip in Mekong River with Bassac III cruise please
contact us
| | | | | | | | |
| --- | --- | --- | --- | --- | --- | --- | --- |
| Information | | Services | | Technical facts | | Video clip | |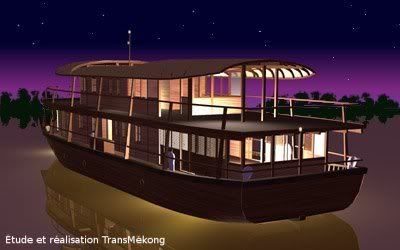 The Bassac III is entirely built of wood in a hull of gỗ sao, the now rare essence of wood used traditionally used for building quality ships.
She can accommodate up to 24 passengers in twelve nicely decorated cabins, each with air-con and a private bathroom, and features a 500 sqft restaurant that opens all around, a large galley, a small office room and 1500 sqft of upper deck, mostly covered.
The Bassac III can take her passengers on cruises up to seven days without stopping, and offers a great flexibility in programming your journey. She also is so powerful and has such a shallow draft as to be able to cruise upstream the Mekong or bring you to your destination regardless of the season, the tide or the current.
Owing to its large engines and specially designed hydraulics, the Bassac III can pull up to 12 knots and go upstream the powerful Mekong, even facing strong currents.
As the Bassac III has a shallow draft, she can go through all the main waterways regardless of the tide.
High Quality Tour Service:

Free consultancy

Online communication

Affordable, refundable

Customized service

Flexible, changeable

Interaction with locals

Authentic experience

Deposit, pay on arrival

Clear cancellation term

... I cannot thank you enough for our three week tour in Vietnam which included a few days in Cambodia ...

Roy, Spain

... Thank you for a great trip in the north of Vietnam! It was really good and everything was organized so good! ...

Fransesca, Netherlands
Copyright 2021 by Tuan Linh Travel Co., Ltd.
A member of Vietnam Travel Promotion Group (
VTP Group
)
Address: Room 509, 15T2 Building, 18 Tam Trinh Str., Hai Ba Trung District, Hanoi, Vietnam (
See map
)
Tel: +84.24.62768866 / mail[at]tuanlinhtravel.com
Online: 150
Visited: 1967