RV Indochina Pandaw Cruise
Book a trip in Mekong River with RV Indochina Pandaw cruise, contact us
Brief facts of RV Indochina Pandaw
Length: 180ft / 55m
Beam: 34ft / 10m
Draught: 3ft / 90cm
Berths: 60 pax on Main and Upper Decks
Decks: 4: Lower, Main, Upper, Bridge
Engines: 2 x 400bhp Cummins inboard propulsion
Built: 2008 in Saigon
Comms: Cell phones, Sat phones (where permitted by local authorities) VHF and SSB radio, internal phone system, PA system and tannoy system for navigation purposes.
Safety: Smoke detectors in all cabins and public places, emergency lighting and generator, fire pump, hydrants and hoses, fire extinguishers, life jackets for all on board and life rafts.
Navigation: Navigation lights, ships horn, searchlight, GPS, Radar (where permitted by local authorities).
Amenities: On board laundry, bakery, fully equipped galley and refrigeration units; air conditioning for all inside areas.
Water: Treatment plants for desalination, desedimentation and purification using UV and osmosis.
Sewage: Microbiotic treatment plants.
Class: VIRES (Vietnam)
Flag: Country flags in areas of operation.
Insurance: Ship Owners UK: P&I policies with over USD45 million per vessel.
Crew: 28 per vessel of mixed Asian nationalities.
Management:European expatriate experts employed directly by Pandaw Cruises supervising experienced Asian Pursers.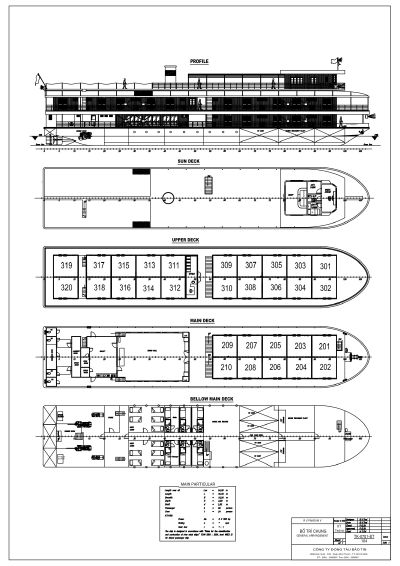 High Quality Tour Service:

Free consultancy

Online communication

Affordable, refundable

Customized service

Flexible, changeable

Interaction with locals

Authentic experience

Deposit, pay on arrival

Clear cancellation term

... I cannot thank you enough for our three week tour in Vietnam which included a few days in Cambodia ...

Roy, Spain

... Thank you for a great trip in the north of Vietnam! It was really good and everything was organized so good! ...

Fransesca, Netherlands
Copyright 2021 by Tuan Linh Travel Co., Ltd.
A member of Vietnam Travel Promotion Group (
VTP Group
)
Address: Room 509, 15T2 Building, 18 Tam Trinh Str., Hai Ba Trung District, Hanoi, Vietnam (
See map
)
Tel: +84.24.62768866 / mail[at]tuanlinhtravel.com
Online: 150
Visited: 1967