Cruise Halong Bay with the Oriental Sail
Book now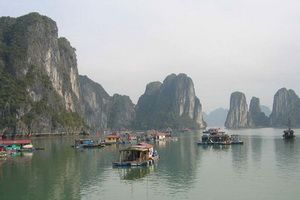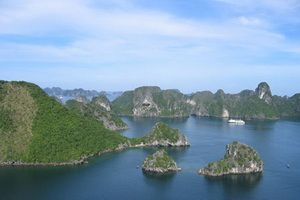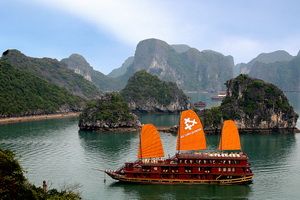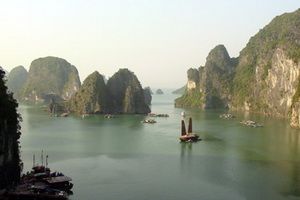 | | | | | | | |
| --- | --- | --- | --- | --- | --- | --- |
| 2-day program | | 3-day program | | Services | | Book now |
Price: $115 p.p (twin share basic)
Single supplement: $40

Surcharge of Christmas Eve, New Year Eve, Lunar New Year Celebrations: $30p.p
Explore Halong Bay on Oriental Sails – one cruise vessel featuring 18 deluxe cabins and one featuring 8 deluxe cabins furnished in classic Vietnamese style. This 2-day cruise into the legendary Halong Bay and a part of Bai Tu Long Bay includes various activities that will indeed provide a truly unique experience. It's all terrific!
Day 1: Hanoi – Bai Tu Long Bay – Halong Bay (L/D)
08h00 – 08h30: Pick-up at hotel and start the 3 hour-and-a-half drive to Hong Gai Tourist Wharf, check in Oriental Sails JSC's private waiting hall – The OS Lounge.
12h00 – 12h30: Embark on Oriental Sails followed by cruise briefing.
13h00 – 15h30: Savor a delectable lunch as Oriental Sails cruises further along the limestone islands of Bai Tu Long Bay and pass by Oan Islet (where a sense of the film L'Indochina was shot by Paradis Film with the famous French actress Catherine Deneuve played since 1992), Teapot Islet, Monster Face Islet, Torch Islet, Dragon Islet, Porcupines Islet and then anchor at Titop beach area.
15h30 – 17h30: Visit Amazing Cave for an hour and then return to the main boat to prepare for kayaking along the hidden parts of the bay.
17h30 – 18h00: Get your hands on some kayaking to visit Luon Cave, a tunnel to a little bay surrounded by a mountain range.
18h00 – 19:00: Return to Oriental Sails and have bath then relax as the sun starts to set.
Enjoy the Happy Hour at the bar and on the sun deck or join a Vietnamese cooking lesson with our chef.
19h00: Dinner is served. Socialize with other guests, night squid fishing or just laze around. Singing and dancing activities are available till 22h00.
21h00: Have second Happy Hour till late evening. Overnight on board.

Day 2: Halong Bay – Hanoi (B/L)
06h30 – 07h00: Start your day with Tai Chi exercise on the sundeck.
07h00 – 09h00: Have breakfast at sunrise. Visit Titop Island: climb up to mountain's peak to enjoy the panoramic views of Halong Bay and swimming at the beach.
09h30: Check-out room. Luggage can be delivered to the reception area.
09h30 – 11h00: Head back to the Harbor. Have early lunch on boat. Disembark Oriental Sails at around 12h00.
12h00 – 16h30: Transfer back to Hanoi and trip finishes at the hotel around 16h30
2-day program
Price: $115 p.p (twin share basic)
Single supplement: $40

Surcharge of Christmas Eve, New Year Eve, Lunar New Year Celebrations: $30p.p
Explore Halong Bay on Oriental Sails – one cruise vessel featuring 18 deluxe cabins and one featuring 8 deluxe cabins furnished in classic Vietnamese style. This 2-day cruise into the legendary Halong Bay and a part of Bai Tu Long Bay includes various activities that will indeed provide a truly unique experience. It's all terrific!
Day 1: Hanoi – Bai Tu Long Bay – Halong Bay (L/D)
08h00 – 08h30: Pick-up at hotel and start the 3 hour-and-a-half drive to Hong Gai Tourist Wharf, check in Oriental Sails JSC's private waiting hall – The OS Lounge.
12h00 – 12h30: Embark on Oriental Sails followed by cruise briefing.
13h00 – 15h30: Savor a delectable lunch as Oriental Sails cruises further along the limestone islands of Bai Tu Long Bay and pass by Oan Islet (where a sense of the film L'Indochina was shot by Paradis Film with the famous French actress Catherine Deneuve played since 1992), Teapot Islet, Monster Face Islet, Torch Islet, Dragon Islet, Porcupines Islet and then anchor at Titop beach area.
15h30 – 17h30: Visit Amazing Cave for an hour and then return to the main boat to prepare for kayaking along the hidden parts of the bay.
17h30 – 18h00: Get your hands on some kayaking to visit Luon Cave, a tunnel to a little bay surrounded by a mountain range.
18h00 – 19:00: Return to Oriental Sails and have bath then relax as the sun starts to set.
Enjoy the Happy Hour at the bar and on the sun deck or join a Vietnamese cooking lesson with our chef.
19h00: Dinner is served. Socialize with other guests, night squid fishing or just laze around. Singing and dancing activities are available till 22h00.
21h00: Have second Happy Hour till late evening. Overnight on board.

Day 2: Halong Bay – Hanoi (B/L)
06h30 – 07h00: Start your day with Tai Chi exercise on the sundeck.
07h00 – 09h00: Have breakfast at sunrise. Visit Titop Island: climb up to mountain's peak to enjoy the panoramic views of Halong Bay and swimming at the beach.
09h30: Check-out room. Luggage can be delivered to the reception area.
09h30 – 11h00: Head back to the Harbor. Have early lunch on boat. Disembark Oriental Sails at around 12h00.
12h00 – 16h30: Transfer back to Hanoi and trip finishes at the hotel around 16h30
3-day program
Price: $210 p.p (twin share basic)
Single supplement: $80

Surcharge of Christmas Eve, New Year Eve, Lunar New Year Celebrations: $30p.p
Explore Halong Bay on Oriental Sails – the best one among Halong bay cruises with one cruise vessel featuring 18 deluxe cabins and one featuring 8 deluxe cabins furnished in classic Vietnamese style. This 3-day cruise into the legendary Gulf of Tonkin (Halong Bay, a part of Bai Tu Long Bay and Lan Ha Bay) includes various activities that will indeed provide a truly unique experience. It's all terrific!
Day 1: Hanoi – Bai Tu Long Bay – Halong Bay (L/D)
08h00 – 08h30: Pick-up at hotel and start the 3 hour-and-a-half drive to Hong Gai Tourist Wharf, check in Oriental Sails private waiting hall – The OS Lounge.
12h00 – 12h30: Embark on Oriental Sails followed by cruise briefing.
13h00 – 15h30: Savor a delectable lunch as Oriental Sails cruises further along the limestone islands of Bai Tu Long Bay and pass by Oan Islet (where a sense of the film L'Indochina was shot by Paradis Film with the famous French actress Catherine Deneuve played since 1992), Teapot Islet, Monster Face Islet, Torch Islet, Dragon Islet, Porcupines Islet and then anchor at Titop beach area.
15h30 – 17h30: Visit Amazing Cave for an hour and then return to the main boat to prepare for kayaking along the hidden parts of the bay.
17h30 – 18h00: Get your hands on some kayaking to visit Luon Cave, a tunnel to a little bay surrounded by a mountain range.
18h00 – 19:00: Return to Oriental Sails and have bath then relax as the sun starts to set.
Enjoy the Happy Hour at the bar and on the sun deck or join a Vietnamese cooking lesson with our chef.
19h00: Dinner is served. Socialize with other guests, night squid fishing or just laze around. Singing and dancing activities are available till 22h00.
21h00: Have second Happy Hour till late evening. Overnight on board.

Day 2: Halong Bay – Lan Ha Bay (B, L, D)
06h00 – 07h00: Start your day with Tai Chi on sundeck.
07h00 – 08h00: Have breakfast at sunrise
08h30 – 09h00: Transfer to day boat for a cruise to Lan Ha Bay
Option 1 (Main option) Relaxing & Kayaking
09h00 – 16h30: Have the whole day relaxing and kayaking around Lan Ha Bay – the less touristic area of Halong. Discover Dark and Light Caves on kayaks, swim and relax on natural beaches. Drop by Halong Pearl Farm on the way back to the Oriental Sails.

Option 2: Kayaking & Rock Climbing with Western instructors (Minimum for 2 pax, booked and paid in advance, compulsory surcharge is applied)
10h15 – 12h30: Kayaking in Moody's Beach area
13h00 – 14h00: Lunch and transfer to Thap Ngiem (Hai Pai Beach)
14h15 – 16h30: Rock Climbing on Hai Pai Beach (optional: kayaking)
18h00 – 22h00: Contemplate romantic sunset. Enjoy dinner, partying, fishing or just lazing. Overnight on board.

Day 3: Halong Bay – Hanoi (B/L)
06h30 – 07h00: Start your day with Tai Chi exercise on the sundeck.
07h00 – 09h00: Have breakfast at sunrise. Visit Titop Island: climb up to mountain's peak to enjoy the panoramic views of Halong Bay and swimming at the beach.
09h30: Check-out room. Luggage can be delivered to the reception area.
09h30 – 11h00: Head back to the Harbor. Have early lunch on boat. Disembark Oriental Sails at around 12h00.
12h00 – 16h30: Transfer back to Hanoi and trip finishes at the hotel around 16h30.
Services
Includes:
- Vietnam visa arrangement (Vietnam visa approval letter)
- Shuttle bus per person round trip
- Full equipped cabin with A/C, hot water
- All meals as itinerary
- Complimentary morning tea and coffee
- Welcome drinks
- Kayaking
- Entrance and sightseeing fees
- Fishing equipment
- English speaking guide on boat
- Insurance on boat
- VAT tax

Excludes:
- Vietnam visa stamping fee
- Additional drinks
- Tips and other personal expenses
- All other services not clearly mentioned above

Children Policy:
Children from 6 to 10 years old are charged 75%, sharing room with parents.
Children under 6 years old are FOC, sharing room with parent and maximum 1 child only.
High Quality Tour Service:

Free consultancy

Online communication

Affordable, refundable

Customized service

Flexible, changeable

Interaction with locals

Authentic experience

Deposit, pay on arrival

Clear cancellation term

... I cannot thank you enough for our three week tour in Vietnam which included a few days in Cambodia ...

Roy, Spain

... Thank you for a great trip in the north of Vietnam! It was really good and everything was organized so good! ...

Fransesca, Netherlands
Copyright 2017 by Tuan Linh Travel Co., Ltd.
A member of Vietnam Travel Promotion Group (
VTP Group
)
Address: Room 509, 15T2 Building, 18 Tam Trinh Str., Hai Ba Trung District, Hanoi, Vietnam (
See map
)
Tel: +84.4.62768855 / Fax: +84.4.62768866 / mail[at]tuanlinhtravel.com
Online: 263
Visited: 3649553