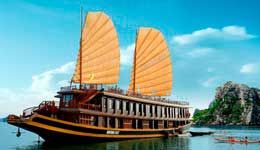 Tour Code: Price list
Duration: 2 - 3 days
Activities: List of Halong Bay cruises and price offered for 2 days and 3 days program in 2019.
Tour Code: TL115
Duration: 2-3 days
Activities: Signature Cruise Halong is fast becoming one of the most sought after cruising experiences on the Gulf of Tonkin. Being hailed as one of the largest vessels in the area, we also offer some of the largest suites and best facilities. Our main concern onboard our cruises are the safety of our passengers and the threat to the surrounding environment...
Tour Code: TL104
Duration: 2-3 days
Activities: Bai tho is one of the first to provide services in Halong bay since its launch in 1999. Since then, Bai Tho has been specializing in providing deluxe cruises on Ha Long Bay with 10 deluxe junks for overnight cruises and 10 luxurious day cruises.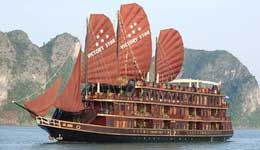 Tour Code: TL109
Duration: 2-3 days
Activities: The Victory Cruise offers perfect mix in tradition elegance and modern comfort. Special attention has been paid to the decoration and interior design. It features with 21 luxury cabins, a dinning room with extremely beautiful view of the bay...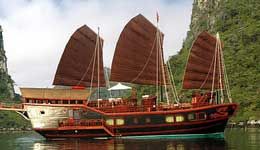 Tour Code: TL114
Duration: 2 days
Activities: The Red Dragon is complete with 05 deluxe cabins and designed with superior class and grandeur. The boat is small enough to get that much closer to the natural wonders, pocket lagoons, and small fishing communities...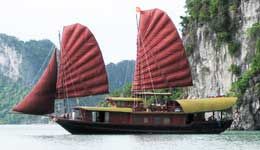 Tour Code: TL116
Duration: 2-3 days
Activities: The style of the Prince 2, like the Red Dragon, was designed after the traditional fishing boats of Ha Long Bay with sophistication and meticulous attention to details. The junk of 4 deluxe cabins has been made for our guests' enjoyment,...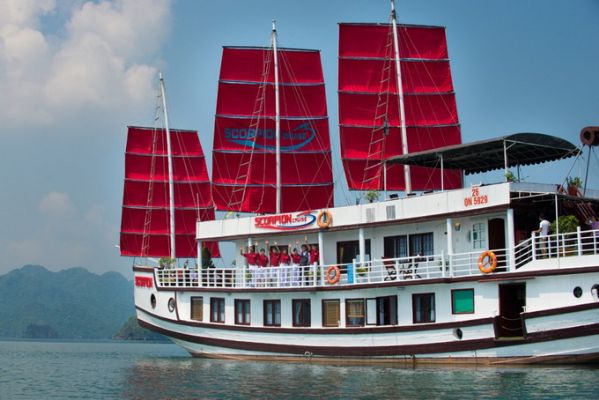 Tour Code: TL102
Duration: 2-3 days
Activities: Be charmed by her exquisite luxury, intimate setting and unrivalled home from home service, Scorpion cruise makes an unforgettable way to witness the serene, calm settings of Halong Bay's exceptional natural beauty.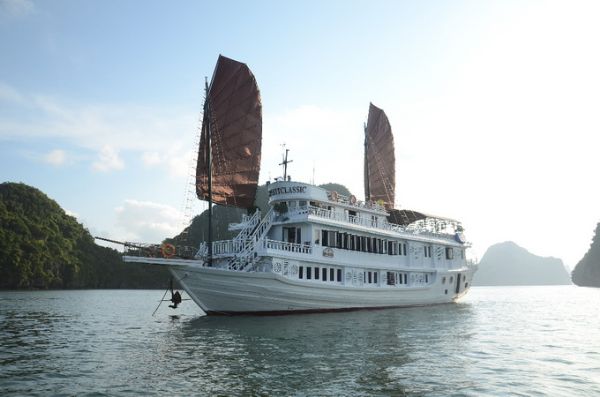 Tour Code: TL107
Duration: 2-3 days
Activities: Experience Halong Bay, on a V'Spirit Classic Cruise, one of the best mid-range cruises available. You will not only see many fantastically shaped islands, beautiful beaches, and great natural caves, but you will also learn more about Halong Bay's history and local people.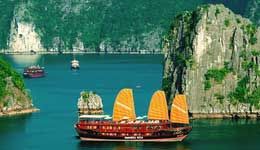 Tour Code: TL108
Duration: 2-3 days
Activities: Indochina Sails has set a new standard for luxury cruising. The fleet of four newly built wooden junks are designed in time-honored traditional style, with contemporary and luxurious cabins and facilities.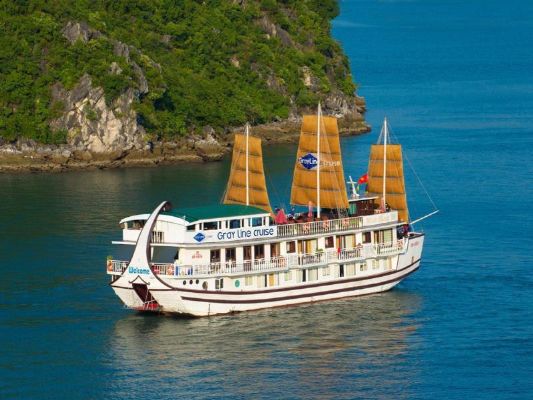 Tour Code: TL118
Duration: 2-3 days
Activities: Gray line Cruise is the newest Classic cruise of 113-years worldwide brand Gray Line. Spreading over 3 decks with 14 luxury cabins, our best halong luxury cruise offers boutique interiors with oak-wooden wall. All rooms and bathrooms have large sea view. VIP cabin has private terrace, Jacuzzi bathtub and private balcony.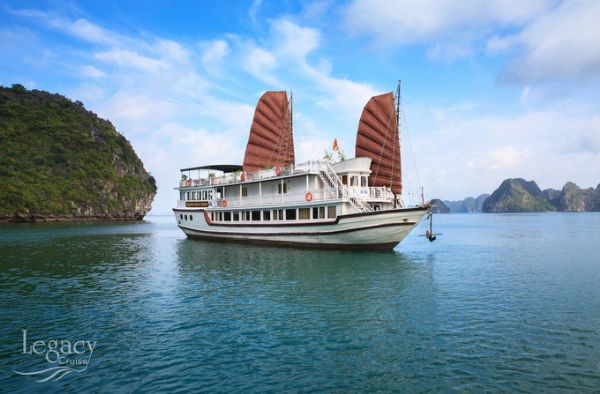 Tour Code: TL105
Duration: 2-3 days
Activities: Halong Legacy Cruise is best choice for your golden Halong vacation. The boat is designed and built for the couple; family and small group with the most convenient, comfortable, luxuriant as well as enchanting services.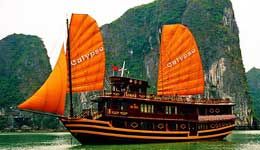 Tour Code: TL121
Duration: 2-3 days
Activities: The myth of Calypso has been inspirited into the Calypso Cruiser. "Glamour" and "Grandeur" are best to characterize Calypso. The cruiser features 12 luxury cabins, all finely equipped, and exposed to the widest view of the Bay...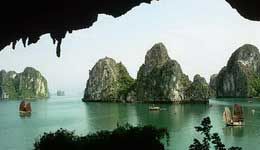 Tour Code: TL122
Duration: 2-3 days
Activities: Built in 2007 in ancient Vietnamese style, Oriental Sails features 16 deluxe cabins of traditional style combined with modern facilities and comfort. The junk boasts rattan & wooden furnishings, a multitude of windows for amazing views...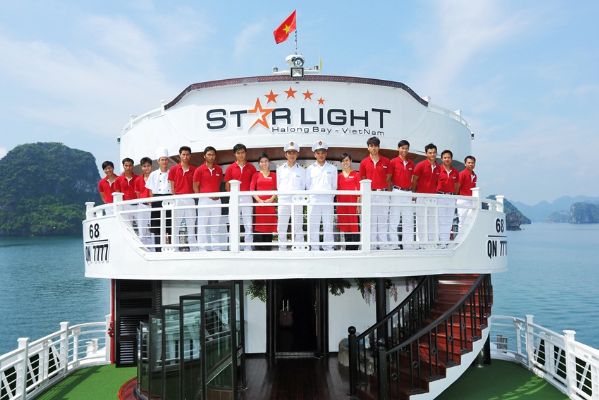 Tour Code: TL123
Duration: 2-3 days
Activities: The five star cruise Starlight features 32 spacious cabins with at least 22m2/each and becomes the most enjoyable way for those who wish to explore Halong Bay in grand style. With Starlight, cruising on the World Heritage Site is more than just a touring experience that we offer – it's a passion that we are delighted to share with you.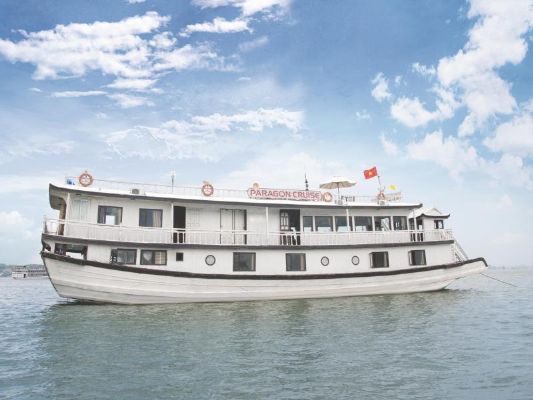 Tour Code: TL112
Duration: 2-3 days
Activities: Launched in June, 2014. Paragon Cruise offers 12 cabins to do overnight trips on Halong bay. It rated as 3 stars service based on Certification of Vietnam Tourism Ministry and also customer reviews. With luxury facilities like a boutique hotel on sea, Paragon Cruise will offer an utmost comfortable and a memorial stay for you!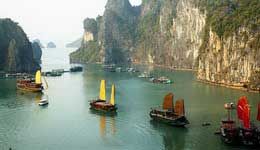 Tour Code: TL103
Duration: 2-3 days
Activities: Huong Hai Junks is one of the Top ones in budget tourism services in Halong Bay, for it still preserve the quality of a good tour with unforgettable experiences. Service, quality and luxury are the hallmarks of this meticulously sails,...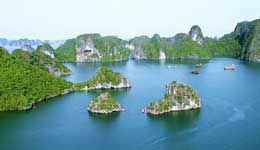 Tour Code: TL101
Duration: 1 day
Activities: Ha Long Bay has twice been recognized by UNESCO as a World Natural Heritage Area for its exceptional scenic beauty and outstanding geological and geomorphic values. Thousands of islands emerging uneven in the fanciful waves...
Visit Halong Bay' Junks to rent a junk for visitting Halong Bay several hours or overnight on the bay.
Viewed from above, Halong Bay resembles a geographic work of art. While exploring the bay, you feel lost in a legendary world of stone islands. There is Man's Head Island, which resembles a man standing and looking towards the mainland. Dragon Island looks like a dragon hovering above the turquoise water. La Vong Island resembles an old man fishing. There are also the islands of the Sail, the Pair of Roosters, and the Incense Burner, which all astonishingly resemble their namesakes. The forms of the islands change depending on the angle of the light and from where the islands are viewed. At the core of the islands, there are wonderful caves and grottoes, such as Thien Cung (Heavenly Residence Grotto), Dau Go (Driftwood Grotto), Sung Sot (Surprise Grotto), and Tam Cung (Three Palace Grotto).
The 10 Best Halong Bay Tours & Trips 2018/2019 (with 10 Reviews ...
Discover the best of Halong Bay with 28 tours travelling to places like Hanoi and Halong Bay. All Major Brands. Biggest selection. Best Prices.
Find the best Halong Bay tours in May 2019 with us. Compare 16 tours with 4 real tour reviews. Book now and save with tuanlinhtravel.com!
45 Best Tours and Holidays in Ha Long Bay 2018/2019 – Compare ...
The top tours, trips, holidays, and vacation packages in Ha Long Bay, delivered by local Ha Long Bay travel specialists. Compare tour prices ...
10 Best Ha Long Bay Vietnam Cruises & Tours for 2019-2020
Your cruise of Ha Long Bay starts at Hon Gai Harbor and on towards Bai Tu Long Bay and the area of Cap La and Tra San, where you will have opportunities to ...
The 10 Best Halong Bay Tours, Junk Boats & Activities 2018
Discover The Best Tours in Halong Bay Including 2-3 Day Overnight Cruise Tours, Bai Tu Long Bay, Discover ... Best Halong Cruise Packages 2018/2019.
Best Halong Bay Cruises Reviews 2019: Find the Best Halong Bay Tour
Are you looking for the best Halong Bay cruise, but with so many boats you are confused as to which is the best Halong Bay tour for your family? In my view, the ...
Which is best luxury boat (April 2019) - Halong Bay Forum ...
Hi all, family of 4 looking at a 2N, 3 day cruise option. Like everyone else have read through so much info and reviews on the ...
September Cruises - Best Halong Bay Cruises of Sep 2019 In the September, there will be less sunshine in Ha Long Bay, the sky and water seem to merge into ...
Ha Long Bay is located 160km (100 miles) north of Hanoi, this is an amazing complex of 3000 chalk islands rising out of the South China Sea.
Halong Bay Cruise | Halong Bay, Vietnam | Weave your way through beautiful Halong Bay on a traditional wooden junk boat. Cruise ... Book your 2019 & 2020 holiday to Vietnam.
This 4-day tour gives you a chance to discover Halong Bay and Tourist sites in Hanoi. Enjoy luxury 4 stars cruise trip. Unbeatable Price. Unique Route. Save up 25%! Top-notch Services. 100% Best Price Guaranty. Services: Free visa to Vietnam, Airport pickup & Transfer, Guided tour.
New iron trendy boat, luxury vans, itinerary as overnight cruise, use highway. Early bird Promotion. Daily Halong bay tour. Last minute deal. Best itinerary.
High Quality Tour Service:

Free consultancy

Online communication

Affordable, refundable

Customized service

Flexible, changeable

Interaction with locals

Authentic experience

Deposit, pay on arrival

Clear cancellation term

... I cannot thank you enough for our three week tour in Vietnam which included a few days in Cambodia ...

Roy, Spain

... Thank you for a great trip in the north of Vietnam! It was really good and everything was organized so good! ...

Fransesca, Netherlands
Copyright 2019 by Tuan Linh Travel Co., Ltd.
A member of Vietnam Travel Promotion Group (
VTP Group
)
Address: Room 509, 15T2 Building, 18 Tam Trinh Str., Hai Ba Trung District, Hanoi, Vietnam (
See map
)
Tel: +84.24.62768866 / mail[at]tuanlinhtravel.com
Online: 150
Visited: 1967