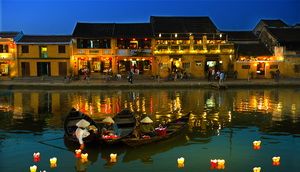 | | | | | |
| --- | --- | --- | --- | --- |
| Tours in Hoi An | | Tours around Hoi An | | Book now |
Hoi An Painting and Lantern Making Class
Halfday biking to fishman village and water coconut forest
1- hoi an halfday cooking tour (opha1)
Tour starts with pick up at your hotel and transfer to the restaurant. You will be welcome by our chef and listen to a brief introduction about the lesson while enjoying some Vietnamese traditional drinks. Be ready to follow our chef to the market, learn how to choose high quality ingredients and how to bargain to get best price. After getting all necessary things, we walk back to the restaurant to start our cooking class. Our chef will lead you through each dish with very detailed instruction and let you get involved in most of the steps so that you can reproduce the authentic taste back home and wow your friends and family. Finally, we will sit together and enjoy all the foods that we have done. Such a good memory, isn't it?
Services includes: Transfer to the class; English speaking guide; Admission fees for joining cooking class, ingredients and recipe; Vietnamese tea/coffee; VAT and Government tax.
Services excludes: Other drinks; Personal expense; Tips and gratuities.
Quotation: US$30/person
2- hoi an open heart tour (opha2)
Let make your trip be more meaningful by joining us in half day to visit a Non-profit Organization for disadvantaged people in Hoi An, take part in their activities in their classes and workshop, and spend time to talk with their members. Most of proceeds from the tour will fund the operation of the organization.
Tour starts at the workshop of Lifestart Foundation at 14 Nguyen Thai Hoc Street where your guide will introduce you to how some people from disadvantage backgrounds live. Then join people in the painting class to learn about Vietnam traditional art of painting, and try to make a hand-made card by yourself to bring home as souvenir. The class is instructed by Mr. Sinh who grew up from an orphanage in Hoi An; and under the assistance of Lifestart Foundation, he is now a successful artist with his own art gallery. After that you will join another class for lantern making; staff in the workshop will instruct you to create a miniature Hoi An lantern of your own. Finally take some time to talk with members of Lifestart Foundation to understand about their organization and how they assist disadvantaged people in Hoi An to get a sustainable life.
Services includes: English speaking guide; Admission fees for joining painting class and lantern making class, Vietnamese tea; VAT and Government tax.
Services excludes: Other drinks; Pick up and drop off at hotel; Personal expense; Tips and gratuities.
Quotation: US$32/person
3- halfday biking tour (opha3)
Duration: Half day
Distance: ~10km
Transport: Bicycle
Activities: Cycling, basket boat cruise, fishing, relaxing foot massage with medicinal herbs, cooking classes and lunch at local family house.
Spend a day leisurely cycling though the scenic and peaceful countryside of Vietnam, far away from the noise of the city. After passing through town, you will find yourself cycling amongst villages of rice fields on quiet roads, ending up in a fisherman village and water coconut forest - 7 hectares of mangrove forest, canals, and houses covered in water coconut leaf. This place played refuge to people and local soldiers during the Vietnam War, but nowadays it is famous for its abundance of seafood.
On our journey to the village we will pass local market, rice fields, cemeteries and schools ...
In the village you will be warmly welcomed with a green tea by local family, you are then free to stroll through the village, before rowing a basket boat with the help of skillful locals, learning their traditional fishing techniques in the water coconut forest.
After that you will enjoy a traditional therapeutic foot bath with medicinal herbs, before helping to prepare lunch with a local family. Lunch will feature many local dishes, such as Tam Huu spring rolls, Banh Xeo local pancakes, grilled fish in banana leaf, among many other Vietnamese delicacies.
Free time and the opportunity for a short rest will follow lunch, before biking back to your hotel.
Services includes: Bicycle; Basket boat, fishing rod; Cooking class and lunch with local family; Foot massage with medicinal herbs; English speaking guide; 1 bottle of mineral water and Vietnam tea; Entrance ticket to the villages; VAT and Government tax.
Services excludes: Other drinks; Personal expense; Tips and gratuities.
Quotation:
| | | | | | | | | |
| --- | --- | --- | --- | --- | --- | --- | --- | --- |
| Number of people in group | 1 | 2 | 3 | 4 | 5 | 6 | 7 up | Group |
| Price (US$/person) | 48 | 38 | 36 | 35 | 34 | 33 | 32 | N/A |
High Quality Tour Service:

Free consultancy

Online communication

Affordable, refundable

Customized service

Flexible, changeable

Interaction with locals

Authentic experience

Deposit, pay on arrival

Clear cancellation term

... I cannot thank you enough for our three week tour in Vietnam which included a few days in Cambodia ...

Roy, Spain

... Thank you for a great trip in the north of Vietnam! It was really good and everything was organized so good! ...

Fransesca, Netherlands
Copyright 2017 by Tuan Linh Travel Co., Ltd.
A member of Vietnam Travel Promotion Group (
VTP Group
)
Address: Room 509, 15T2 Building, 18 Tam Trinh Str., Hai Ba Trung District, Hanoi, Vietnam (
See map
)
Tel: +84.4.62768855 / Fax: +84.4.62768866 / mail[at]tuanlinhtravel.com
Online: 281
Visited: 3065384