Arengo Sapa Hotel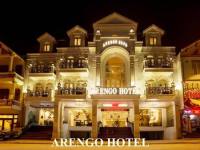 Address:
60 Ngu Chi Son, Sapa Town, Lao Cai Pro, Vietnam
Email:
arengosapahotel@gmail.com
Website:
http://arengosapa.com.vn
Sapa Hotel is ideally situated in Sapa City Center; one of the city's most popular locales. The hotel lies 30 km from the city center and provides accessibility to important town facilities. Some of the major tourist attractions in the surrounding area include Ancient Stone Field, Cam Pha Ta Phin Cave, Ta Phin Ethnic Group.
Arengo Sapa Hotel offers impeccable service and all the essential amenities to invigorate travelers.
For the comfort and convenience of guests, the hotel offers laundry service / dry cleaning, 24hr room service, elevator, bicycle rental, business center. In addition, all guestrooms feature a variety of comforts such as internet access - wireless (complimentary), in room safe, shower, bathtub to please even the most discerning guest. long. The hotel's recreational facilities, which include garden, water sports (non-motorized), water sports (motorized), water sports (non-motorized) are designed for escape and relaxation. comfortable stretch.
Arengo Sapa Hotel is an ideal place of stay for travelers seeking charm, comfort and convenience in Sapa (Lao Cai). Arengo Sapa Hotel also offers many facilities to enrich your stay in Sapa. This hotel offers numerous on-site facilities to satisfy even the most discerning guest. Arengo Sapa Hotel is a smart choice for travelers to Lao Cai, offering a relaxed and hassle-free stay every time.



Thank you for you email. We did indeed have a wonderful time in Vietnam and I could not fault your service in any way ...


Everything went very well, the guides were excellent meeting schedule with professionalism and friendliness. The hotels and although they were not accounted for luxury, service and facilities were excellent level, ...

Copyright 2022 by Tuan Linh Travel Co., Ltd.
A member of Vietnam Travel Promotion Group (
VTP Group
)
Address: Room 509, 15T2 Building, 18 Tam Trinh Str., Hai Ba Trung District, Hanoi, Vietnam (
See map
)
Tel: +84.24.62768866 / mail[at]tuanlinhtravel.com
Online: 150
Visited: 1967