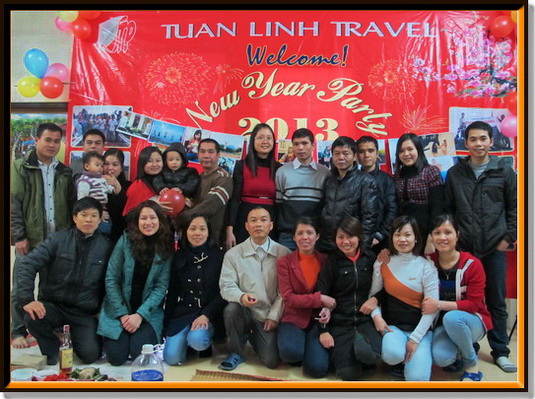 We are a legal and fully licensed tour operator
Tuan Linh Travel is a legal and prestigious tour operator in Vietnam, founded in May 2005 in Hanoi under the first business license No. 0102020492 issued by Hanoi Plan and Investment Service Department. Thank to our outstanding contribution to the development of Vietnam Tourism industry, again we were granted the International Tour Operator License No.0639/2007/TCDL-GP LHQT in 2007 by Vietnam Administration of Tourism, the supreme body that control all tourism activities in Vietnam.


Our Mission
Our main principle is to fully meet satisfactions of all tourists who wish to discover the charming beauty of Vietnam's land and people. With young, professional and enthusiastic tour operators as well as and tour guides, we are committed to making your trip in Vietnam pleasant and unforgettable.

Tax - a means of realizing public responsibility
Since the date of foundation, we have been deeply aware that paying tax is a relevant responsibility of any company to the development and prosperity of the country.


Member of Vietnam Chamber of Commerce and Industry (VCCI)
We are proud to be a member of VCCI since 2007. This is a highly reputed non-governmental organization which assembles and represents business community, employers and business associations of all economic sectors in Vietnam.


CBI's competent trainee
We would like to give great thanks to the Centre for Promotion of Imports from Developing Countries (CBI), an Agency of the Netherlands Ministry of Foreign Affairs. They have been helping us a lot in getting closer to strict requirements and principles of EU tourism market in the Export Coaching Programme Tourism 2008-2014 (ECP).


A responsible Tour Operator
As defined in Cape Town in 2002 alongside The World Summit on Sustainable Development, Responsible Tourism is about "making better places for people to live in and better places for people to visit". Responsible Tourism requires that operators, hoteliers, governments, local people and tourists take responsibility, take action to make tourism more sustainable.
As a responsible tour operator, Tuan Linh has put much effort on developing community based tourism in Ha Giang province that partly contributes to improving the quality of life for local residences. We aim to provide most authentic experiences possible for our customers; on the other hand, local people will benefit from the tours we operate by offering home stay accommodation and other related services. See more detail about our Ha Giang tours.


Why booking with us (See the reasons why you should use our services)


See our images (Information about Tuan Linh Travel's members)
Meet us at yearly travel trade fairs: ITB Berlin, Germany; Vakantiebeurs, The Netherlands
| | |
| --- | --- |
| Official Name | Tuan Linh Travel Co., Ltd. |
| Head Office | 319, A4 building, Quynh Mai, Hai Ba Trung District, Hanoi, Vietnam |
| Booking Office | Room 509, 15T2 building, 18 Tam Trinh street, Hanoi, Vietnam (find us) |
| Telephone | +84.24.62768855 |
| Facsimile | +84.24.62768866 |
| Online contact | or contact form |
CUSTOMER REVIEWS

Thanks for the email. Everything was okay with the passport in the end. There was some confusion at the police station but Mr Giang was able to convince the local authorities that everything was in order. The tour itself was amazing. We both had a really good time and enjoyed every ...
Copyright 2023 by Tuan Linh Travel Co., Ltd.
A member of Vietnam Travel Promotion Group (
VTP Group
)
Address: Room 509, 15T2 Building, 18 Tam Trinh Str., Hai Ba Trung District, Hanoi, Vietnam (
See map
)
Tel: +84.24.62768866 / mail[at]tuanlinhtravel.com
Online: 150
Visited: 1967