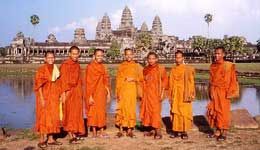 Tour Code: TL801
Duration: 2 days
Activities: It is time to visit one of the great wonders of the world, symbol of the heart and soul of the Cambodia, Angkor Wat. Then view wonderful sunset from the top of Phnom Bakheng Hills...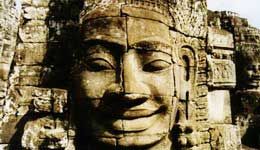 Tour Code: TL802
Duration: 3 days
Activities: We embark on Ox cart to visiting the Khmer Village and enjoy view of the rice field and a lots of palm trees with great fresh air. We board on boat in Tonle Sap Lake. Here, enjoy a brief cruise past floating villages...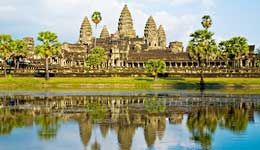 Tour Code: TL803
Duration: 4 days
Activities: Today we drive to visit Kbal Spean, 50km northeast of Siem Reap or 18km from Banteay Srei. The original "River of Thousand Lingams"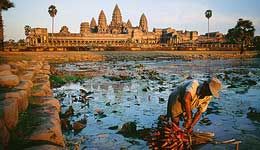 Tour Code: TL804
Duration: 3 days
Activities: Visit South Gate of Angkor Thom, the famous Bayon, Baphoun, the Terrace of Temple, Elephants and Terrace of the Leper King. It is time to visit the world wonder of Angkor Wat and sunset from Phnom Bakheng Hill...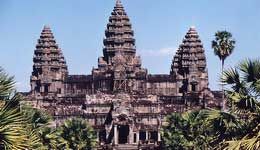 Tour Code: TL805
Duration: 4 days
Activities: The capital city of Phnom Penh was once considered the loveliest city of Indochina. Despite its recent turbulent history, it still maintains considerable charm. A city tour acquaints us with some major sights of Phnom Penh...
Tour Code: TL806
Duration: 5 days
Activities: Departure by air conditioned car on national road No 5 along the Tonle Sap River, on the way visit the mosques, the fishing villages, the handicraft center of silver at Kompong Luong, continue to Phnom Oudong...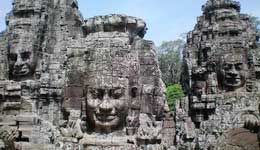 Tour Code: TL807
Duration: 6 days
Activities: Upon arrival at Phnom Penh airport or ferry doc from Chau Doc, You will be met and transferred to your hotel. Visit to Royal Palace, Silver Pagoda, Independence Monument, National Museum and Wat Phnom...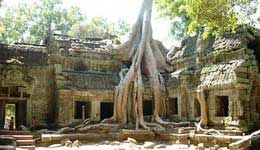 Tour Code: TL808
Duration: 9 days
Activities: Morning Breakfast at hotel, transfer to take Tonle Sap (Great Lake) Cruise, visiting fisherman life, floating fishing village dot the semi-submerged forest that lines the flood plane rim of the lake...
The Kingdom of Cambodia has grown up in all fields, especially in tourism that is one of six priorities in the Cambodian economic developmental process. Tourism playing a pivotal role in the Cambodian socio-economic development can really create more job prospects for the Cambodian people, generate income/ profit for them, provide more benefits for local communities, find different approaches for community-based members, enhance standards of citizens' living, improve physical infrastructure, and alleviate poverty of the Cambodian people in conformity with the rectangular strategy of the Royal Government of Cambodia.
Cambodia Tours in 2019 | Cambodia Group Tours 2019. Classic Cambodia - 6 days. Found 34 departure dates for 2019. Saigon to Siem Reap - 9 days. Saigon to Bangkok - 11 days. Highlights of Cambodia & Laos - 13 days. Thailand & Angkor Temples - 13 days. Thailand & Angkor Temples 2019 - 14 days. Journey to Angkor Wat - 15 days. Indochina Express - ...
185 Best Cambodia Tours & Holiday Packages 2018/2019 - Compare ...
The best tours, trips and vacation packages in Cambodia delivered by top Cambodia travel specialists – Compare tour prices.
Top 10 Cambodia and Vietnam Tours in January 2019 trips through Cambodia and Vietnam. 14 Days Best of Vietnam & Cambodia. 25 reviews - Good. Journey to Angkor Wat - 15 days. Best of Cambodia & Vietnam. Best of Vietnam & Cambodia. Indochina Discovery. Thai Indochina Explorer. Sensational Southeast Asia with Chiang Mai & Luang Prabang. Cycle Indochina & ...
Find the best Cambodia in 2019 tours with us. Choose from 98 tours with 578 real tour reviews. Book now and save!
Cambodia Tours & Cambodia Holidays | Take a tour of Cambodia and Laos with us. From floating villages to ancient temples. Ancient sites of worship and a lake of floating villages are just some of the ...
Popular Cambodia Tours | Book your 2019 & 2020 holiday to Cambodia with Tuan Linh Travel ... Any tour to Cambodia worth their salt should visit the temples of Angkor but the country ...
Cambodia holidays 2018, 2019 - packages and tours - Discover Cambodia with Selective Asia's tailor made holidays. ... monument in the world, and was for years 'just' an add-on to a Thailand or Vietnam trip. Today ...
CUSTOMER REVIEWS

Thanks for the email. Everything was okay with the passport in the end. There was some confusion at the police station but Mr Giang was able to convince the local authorities that everything was in order. The tour itself was amazing. We both had a really good time and enjoyed every ...
Copyright 2019 by Tuan Linh Travel Co., Ltd.
A member of Vietnam Travel Promotion Group (
VTP Group
)
Address: Room 509, 15T2 Building, 18 Tam Trinh Str., Hai Ba Trung District, Hanoi, Vietnam (
See map
)
Tel: +84.24.62768866 / mail[at]tuanlinhtravel.com
Online: 150
Visited: 1967