We meet EU market requirement with CBI help
In June 2009, through a intensive training course and being strictly audited, Tuan Linh Travel Co., Ltd. was selected by CBI to take part in Export Coaching Programme Tourism 2008-2014 (ECP)
An ECP helps us to:
- Adapt our company and products to EU market requirements and standards;
- Become familiar with EU markets and business practice;
- Develop an export marketing strategy;
- Export to the EU market;
- Consolidate our export position in the EU.
See Tuan Linh Travel Co., Ltd. in the CBI training EXPRO 83 - Tourism, November 2 to 6 2009, Rotterdam, the Netherlands
Mr. Wolfgang Coym with Vietnam travel companies, Hanoi, 8 July 2011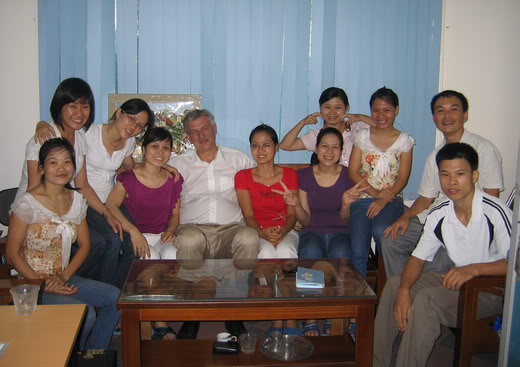 Mr. Wolfgang Coym in our office, 02 July 2010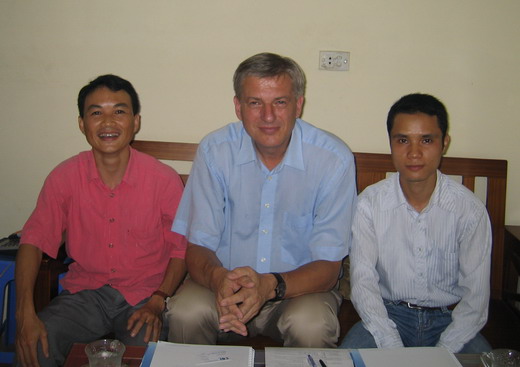 . and the coach Mr. Wolfgang Coym, CBI expert (14 Sep 2009)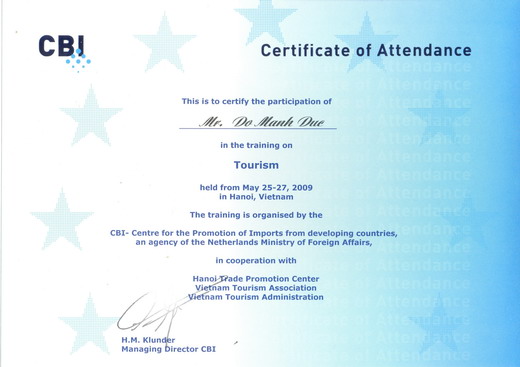 The ECP's are targeted at companies in developing countries that have the capacity (or potential) to export to the EU.
A company that complies to the following criteria can apply for an ECP:
- At least 51% locally owned, or (co-) owners who reside in another developing country (excluding developing countries characterized as UMIC or higher*);
- 25 to 500 employees;
- No joint venture with a company based in a country with a classification of UMIC or higher;
- Compliance or the willingness to comply with EU market requirements;
- No licensing commitments that prohibit or limit export possibilities of products to the EU
- Competitive prices and sufficient production capacity;
- A management which is able to communicate in English;
- The willingness and capacity to invest in adaptations of, for instance, product assortment and production processes, if and as required by the European market.
High Quality Tour Service:

Free consultancy

Online communication

Affordable, refundable

Customized service

Flexible, changeable

Interaction with locals

Authentic experience

Deposit, pay on arrival

Clear cancellation term

... I cannot thank you enough for our three week tour in Vietnam which included a few days in Cambodia ...

Roy, Spain

... Thank you for a great trip in the north of Vietnam! It was really good and everything was organized so good! ...

Fransesca, Netherlands
Copyright 2021 by Tuan Linh Travel Co., Ltd.
A member of Vietnam Travel Promotion Group (
VTP Group
)
Address: Room 509, 15T2 Building, 18 Tam Trinh Str., Hai Ba Trung District, Hanoi, Vietnam (
See map
)
Tel: +84.24.62768866 / mail[at]tuanlinhtravel.com
Online: 150
Visited: 1967