Nesta Danang Hotel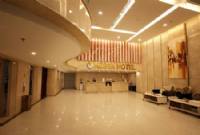 Address:
06-07 H2 Pham Van Dong Str, Son Tra Dist, Danang, Vietnam
Email:
infodn@nestahotel.com.vn
Website:
http://www.nestahotel.com.vn
NESTA DANANG hotel is conveniently located in the center of Da Nang city, within charming mountain water like an nature dreaming landscape running around to embellish some famous bridges as Swivel bridge Han River, Thuan Phuoc Hammock Bridge, Dragon Bridge, cable Bridge and the Sun Wheel of Heaven ... create a mysterious painting, romantic night that you could not forget every visit and stay.
The hotel has 75 bedrooms are invested in the East-West-Classical school harmoniously harmonious, modern facilities and facilities, 4 star international standards.


Thank you for you email. We did indeed have a wonderful time in Vietnam and I could not fault your service in any way ...


Everything went very well, the guides were excellent meeting schedule with professionalism and friendliness. The hotels and although they were not accounted for luxury, service and facilities were excellent level, ...

Copyright 2023 by Tuan Linh Travel Co., Ltd.
A member of Vietnam Travel Promotion Group (
VTP Group
)
Address: Room 509, 15T2 Building, 18 Tam Trinh Str., Hai Ba Trung District, Hanoi, Vietnam (
See map
)
Tel: +84.24.62768866 / mail[at]tuanlinhtravel.com
Online: 150
Visited: 1967