Wild Beach Resort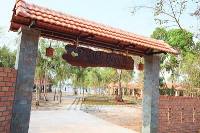 Address:
Vung Bau Beach , Phu Quoc Island , Kien Giang Pro, Vietnam
Email:
wildbeachphuquoc@gmail.com
Website:
http://wildbeachphuquoc.com
Wild Beach Phu Quoc is a beautiful resort located on the pristine and tranquil beach of Vung Bau Bay, in the north of Phu Quoc island, 25 km away from Duong Dong downtown.
The resort was inaugurated in early 2015 to offer accommodation services for those who want to get away from the hustle and bustle of urban life, seeking for a wonderful vacation on a gorgeous beach surrounded by beautiful landscape and unspoiled nature.
Besides the great beach location, the resort boasts new, spacious, and comfortable bungalows. Its restaurant serves delicious and affordable dishes. Also, the staff are friendly and service minded.

Thank you for you email. We did indeed have a wonderful time in Vietnam and I could not fault your service in any way ...


Everything went very well, the guides were excellent meeting schedule with professionalism and friendliness. The hotels and although they were not accounted for luxury, service and facilities were excellent level, ...

Copyright 2019 by Tuan Linh Travel Co., Ltd.
A member of Vietnam Travel Promotion Group (
VTP Group
)
Address: Room 509, 15T2 Building, 18 Tam Trinh Str., Hai Ba Trung District, Hanoi, Vietnam (
See map
)
Tel: +84.24.62768855 / Fax: +84.24.62768866 / mail[at]tuanlinhtravel.com
Online: 150
Visited: 1967