New Sunrise Hotel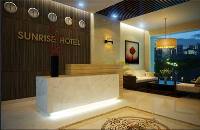 Address:
Lot 19-B1.3-Duong Dinh Nghe Street, Son Tra district, Da Nang City, Vietnam
Website:
http://www.sunrisedanang.com
Sunrise – As elegant hotel , with a peaceful climate and fresh sea fresh modern equipment harmonious combination between style Asia – Europe . A perfect place next to the beach you can launch sweeping views to the Son Tra Peninsula , Ngu Hanh Son and watching the city with great beaches – one of the most beautiful beaches on the planet.
A day of rest at Sunrise you will be satisfied because here accommodations with perfect equipment as the international hotel , is the ideal getaway for you and your family in trip or work on central Vietnam . Rest and relaxation delight after seaside enjoying the sights in the popular tourist area , such as Hoi An Ancient Town , My Son ancient tower complex , Ngu Hanh Son , Son Tra Peninsula , Ba Na resort … help you have the holiday meaningful and memorable . Staff youthful , elegant and dynamic training professional attitude elegant , considerate , help you feel a subtle enjoyment of services through every little detail in the offering of we do . With its commitment to contribute to raising the quality hospitality services in the area of Da Nang , we will give you moments of comfort, are required to meet the expectations of our customers. Once unwind at Sunrise you will feel an address worthy and reliable with the motto " International standards and local price " . When you come to us , you not only companions , but also is the honored guest family Danang Sunrise . Thank you for visiting our website , wish you good health and even pick up an interesting address resting with the most reasonable cost on the coast of Da Nang . Pleased and looking forward to serving you at your hotel Sunrise .


Thank you for you email. We did indeed have a wonderful time in Vietnam and I could not fault your service in any way ...


Everything went very well, the guides were excellent meeting schedule with professionalism and friendliness. The hotels and although they were not accounted for luxury, service and facilities were excellent level, ...

Copyright 2023 by Tuan Linh Travel Co., Ltd.
A member of Vietnam Travel Promotion Group (
VTP Group
)
Address: Room 509, 15T2 Building, 18 Tam Trinh Str., Hai Ba Trung District, Hanoi, Vietnam (
See map
)
Tel: +84.24.62768866 / mail[at]tuanlinhtravel.com
Online: 150
Visited: 1967