What is visa on arrival?

Sample of Visa issued on arrival

How to apply visa on arrival?

What is visa approval letter?

What are required documents to get visa stamped on arrival? Stamping fee? Photo requirement?

Where to get visa on arrival? How long?

Vietnam visa on arrival
Visa on arrival is officially issued by Vietnam Immigration Department (Vietnamese Government Agent), it has same validity with the visa get from Vietnamese Embassy/ Consulate abroad.
Visa on arrival is the most comfortable way to obtain your visa without wasting time. With this visa service, you can only enter the country by air at Vietnam international airports (Noi Bai in Hanoi, Tan Son Nhat in Ho Chi Minh City and Da Nang airport). We are proud of being one of the first travel agencies in Vietnam offering Vietnam visa on arrival for travelers. With our approved service, travelers only need some minutes to apply visa online and be ready for a wonderful trip to Vietnam.

Sample of a Vietnam visa issued on arrival at Vietnam airport:

Instruction to apply Vietnam visa on arrival
Just go to application page to check service fee then fill out your visa information and pay for the service. It is very clear with detail instruction. The required information is simple. It takes about 10 minutes to finish this work. After settling the payment, you will get a mail confirming your application. All you do then is waiting some days (depending on your request) to get visa approval letter. With the approval letter, you will easily get visa stamped at Vietnam airports.

Vietnam visa approval letter
Visa pre-approval letter is a letter issued by Vietnam Immigration Department (Vietnam Government Agency) allows you enter and exit Vietnam for a given time period. With the approval letter, traveler can pick up visa at all international airports in Vietnam (Noi Bai airport in Hanoi, Tan Son Nhat airport in Ho Chi Minh City and Da Nang airport in Da Nang City).
Copy of the same document will be transmitted to Vietnam immigration checkpoints at Vietnam International Airports, so that when the applicant arrives, the Immigration officers have those documents on hand already and will be able to issue your entry visa.
Before issuing an approval letter, the Office checks and screens visa application very strictly, so there is no case that you will be rejected at Vietnam airports when you have a visa pre-approval letter in hand. See a sample of Vietnam visa approval letter below: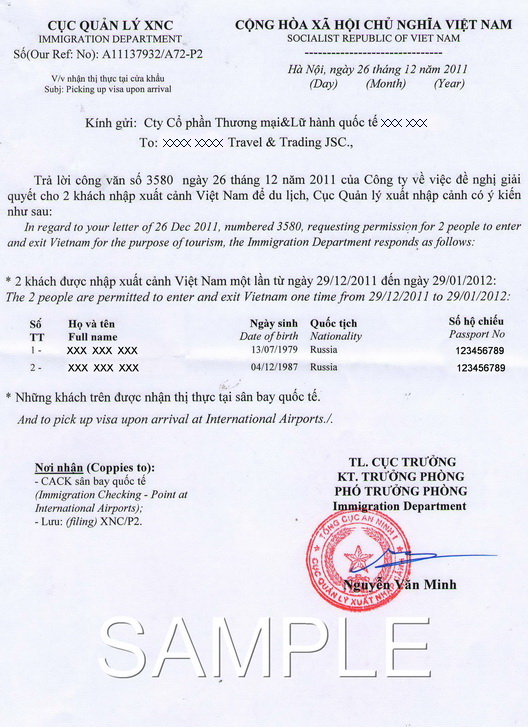 Required documents to get Vietnam visa at airport
To get Vietnam visa stamped in your passport at airport, you need to bring:
1- Your passport (with validity at least 6 months and has 2 blank pages)
2- 2 passport–size photos (front view; 4 x 6 cm).
3- Copy of approval letter that we sent to you.
4- At the airports, you have to fill 1 more form, to save your time please download and fill in this form in advance (photo and signatures are required).
5- Stamping fee, you pay directly in cash at the Immigration desk at airport:
* US$25 for single entry visa from 1 month to 3 months;
* US$50 for multiple entries visa from 1 month to 3 months.
* US$135 for multiple entries 1-year visa.
Accepted currencies are Vietnam Dong and US Dollars, paid in cash only.
Russian travelers are exempted from this fee.
Photo requirement:
- Photographs must be identical, taken within the past 6 months.
- The image size from the bottom of the chin to the top of the head should be between 1 inch and 13/8 inches.
- The photographs may be in color or black and white.
- The photo must be full face, front view with a plain white or off-white background.
- Photographs should be taken in normal street attire, without a hat or headgear that obscures the hair or hairline.
- Uniforms should not be worn in photographs with the exception of religious attire which is worn daily.
- If prescription glasses, a hearing device, wig or similar articles are normally and consistently worn, they should be worn when the picture is taken.
- Dark glasses or nonprescription glasses with tinted lenses are not acceptable unless required for medical reasons. A medical certificate may be required to support the wearing of such glasses in the photographs.

Where to get visa at Vietnam airport
At the airport, on the way to baggage claim, you will see Landing Visa (or Visa Upon Arrival) office. All you do is to hand in the above documents and wait to get your passport back with Vietnam visa stamped.
It depends on the number person(s) applied visa on arrival like you. Usually it takes from 15 to 30 minutes. Make sure you have all required documents ready.
See images of the Office in Noi Bai airport and Tan Son Nhat airport below: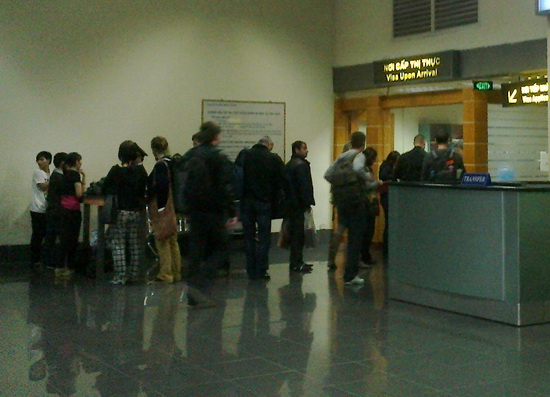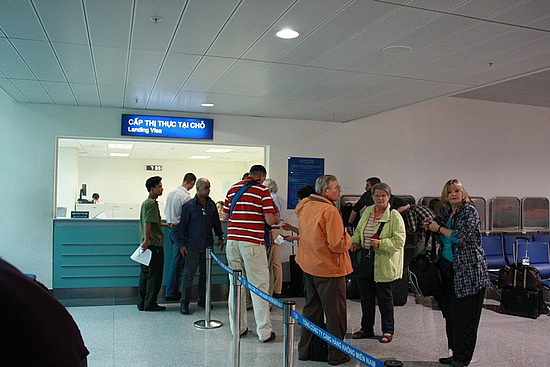 ----------------------------------------------------------
Trusted by Thousands of Clients Worldwide. Apply now! Then get Visa at Vietnam Airports. The fastest, easiest, and most trusted way to get Vietnam visa online. Money back guarantee.
Check Visa Requirements Vietnam Visa Fee Apply Vietnam Visa Customer Questions
The 15 day free visa exemption has been extended to June 2020 for the passport holders from United Kingdom, France, - Spain, Italy and Germany. Travellers from these countries can travel to Vietnam without a visa for 15 days, longer term visas can be obtained through visa on arrival or at the local embassy.Jan 1, 2020
Vietnam Visa On Arrival | 2020 Guide
How much is a Vietnam visa on arrival?
Can I enter Vietnam without a visa?
Is Vietnam visa free for Filipino?
Where do I get a visa for Vietnam?
Vietnam Visa on Arrival 2020; a Complete Guide - Vietnam
Visa on arrival is one of the stress-free, time, and cost-saving ways to apply for your Vietnam visa. Since, the complete process of Vietnam visa on arrival 2020 is done via online, you no need to go to any other place to applying and collecting your visa. Yes, people can apply for a visa via Vietnam e-Visa.
Vietnam Visa on Arrival - Everything You Need to Know 2020
Vietnam visa on arrival: Learn everything about VOA, including who is eligible, how to apply, fee, applicable airports and processing time!
What if I change my arrival airport in Vietnam?
What if I have unknown travel dates while filling the application form for visa approval letter?
Is there any time frame to apply for a visa approval letter for Vietnam?
Vietnam Visa Exemption 2020 | Which Countries Do not Need
Foreign passports are exempt from visa requirements to Phu Quoc island ... As of January 2020, regular passport holders from 24 COUNTRIES ...
How to apply for Vietnam visa on arrival in 2020
There are 4 simple steps to get Vietnam visa on arrival: fill out online application form, pay the service fee with credit card, receive an approval letter via email ...
Vietnam Visa On Arrival For All Nationalities 2020
Getting your visa stamp once you land in Vietnam: You get the actual visa and visa stamp at the airport when you arrive Vietnam by submitting ...
All Information about Vietnam Visa in 2020 | Vietnam eVisa
Then you will receive the e-Visa via email. You just print it out and go to Immigration check when arriving Vietnam (no additional fee on arrival).
Visa Guide to Vietnam 2020 - Cheap Visa to Vietnam
Getting a visa for Vietnam is not very difficult as there are 79 countries citizens of which can get visa on arrival, 45 countries tourists from which may get an ...
Vietnam Visa Requirements | Vietnam Tourism
Vietnam offers e-visas, visa exemptions, and visas on arrival to travellers. Find all the information you need on tourist visas for Vietnam.
Other Vietnam Visa Information:
High Quality Tour Service:

Free consultancy

Online communication

Affordable, refundable

Customized service

Flexible, changeable

Interaction with locals

Authentic experience

Deposit, pay on arrival

Clear cancellation term

... I cannot thank you enough for our three week tour in Vietnam which included a few days in Cambodia ...

Roy, Spain

... Thank you for a great trip in the north of Vietnam! It was really good and everything was organized so good! ...

Fransesca, Netherlands
Copyright 2021 by Tuan Linh Travel Co., Ltd.
A member of Vietnam Travel Promotion Group (
VTP Group
)
Address: Room 509, 15T2 Building, 18 Tam Trinh Str., Hai Ba Trung District, Hanoi, Vietnam (
See map
)
Tel: +84.24.62768866 / mail[at]tuanlinhtravel.com
Online: 150
Visited: 1967