Green Organic Villas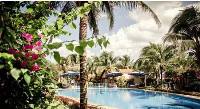 Address:
Tien Phu Village, Tien Thanh Commune, Phan Thiet City, Binh Thuan Province, Vietnam
Email:
info@greenorganicvillas.com
Website:
http://greenorganicvillas.com
Escape to small paradise of tranquility and experience the ultimate in luxury living at Green Organic Villas.
A beach front boutique hotel Green Organic Villas is perfect place for all travelers who want to get away from the stressful, noisy city life. Our seven private Villas are located at Tien Thanh beach, just 15 minutes drive from Phan Thiet City.
Placed on a luscious tropical garden, Green Organic Villas offering stunning ocean views, beautiful nature and peaceful atmosphere.
Organic restaurant
We can proudly say that we are first organic restaurant in Phan Thiet offering mouthwatering Asian, French, Italian and Mediterranean cuisine. At Green Organic Villas we understand that wholesome ingredients from dedicated local fishermen and farmers are the key to great dining. Our passion for organic products, gave us an appreciation for fresh, delicious food and now in our beloved Green Organic Villas we want to share our love for healthy dishes with our guests.


Thank you for you email. We did indeed have a wonderful time in Vietnam and I could not fault your service in any way ...


Everything went very well, the guides were excellent meeting schedule with professionalism and friendliness. The hotels and although they were not accounted for luxury, service and facilities were excellent level, ...

Copyright 2020 by Tuan Linh Travel Co., Ltd.
A member of Vietnam Travel Promotion Group (
VTP Group
)
Address: Room 509, 15T2 Building, 18 Tam Trinh Str., Hai Ba Trung District, Hanoi, Vietnam (
See map
)
Tel: +84.24.62768866 / mail[at]tuanlinhtravel.com
Online: 150
Visited: 1967