The Garden House Phu Quoc
The Garden House Phu Quoc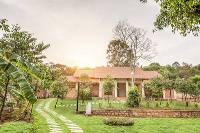 Address:
Zone 1, Ganh Gio Ward, Cua Duong Sub district, Phu Quoc City, Kien Giang Pro, Vietnam
Email:
info@thegardenhousephuquoc.com
Website:
http://www.thegardenhousephuquoc.com
The Garden House Resort with 4 hectares is unlike any other in Phu Quoc. From the beautiful garden houses hidden under the branches of big trees to the gently curving grass pathways, the Resort leaning on the mountain gives you complete tranquility and comfort with verdant gardens, outdoor sport area, impressive swimming pool and tropical-style-bar.
The Garden House Resort is located in Ganh Gio hamlet, just 14 kms North of Phu Quoc International Airport and just 3.2 kms South of one of the most beautiful and pristine beaches of the island- Dinh Ba Beach, Ong Lang Commune.
The main town on the island- Duong Dong- is short 12 minute drive away.
Combining contemporary and Vietnamese decor, each garden house with small pond in front of the living room is traditionally designed to be in harmony with the surrounding nature. Experiencing holiday with the garden houses will bring you the snug and comfort.
The Garden Houses are designed with the combination of luxury and tradition with home appliances. Especially, you can cook many favorite dishes right in the comfortable kitchen. Your stay at The Garden House Resort will be a vacation to remember.


Thank you for you email. We did indeed have a wonderful time in Vietnam and I could not fault your service in any way ...


Everything went very well, the guides were excellent meeting schedule with professionalism and friendliness. The hotels and although they were not accounted for luxury, service and facilities were excellent level, ...

Copyright 2019 by Tuan Linh Travel Co., Ltd.
A member of Vietnam Travel Promotion Group (
VTP Group
)
Address: Room 509, 15T2 Building, 18 Tam Trinh Str., Hai Ba Trung District, Hanoi, Vietnam (
See map
)
Tel: +84.24.62768855 / Fax: +84.24.62768866 / mail[at]tuanlinhtravel.com
Online: 150
Visited: 1967