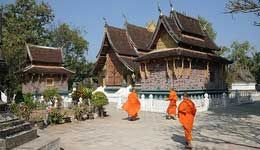 Tour Code: TL904
Duration: 4 days
Activities: The Ancient Town of Luang Prabang in the center of northern Laos has been described as one of the most charming and best preserved towns in Southeast Asia. There are 34 Buddhist temples among colonial and Chinese architecture...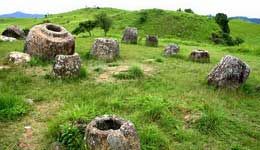 Tour Code: TL905
Duration: 5 days
Activities: We will take a brief tour in the Northern Laos including the most outstanding places, especially the World Heritage Luang Prabang. If you come to Laos the first time, you may want to extend some days in Vientiane...
Tour Code: TL906
Duration: 7 days
Activities: Recently, Laos has become more popular with tourists among whom it is known for its relaxed style of living. It is seen to have elements of the
Tour Code: TL907
Duration: 10 days
Activities: The attractions made most accessible to tourists are Buddhist culture in Luang Prabang, gastronomy in the capital of Vientiane, backpacking in Vang Vieng and ancient and modern culture and history in The Plain of Jars region...
Tour Code: TL901
Duration: 2 days
Activities: Wat sisaket the Buddha museum where more than ten thousand Buddha statuses in the minor niches on the wall can be seen. Visit national museum, shopping at famous Lao Morning market. Then sunset on the Mekong River...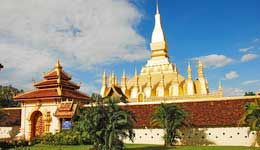 Tour Code: TL902
Duration: 3 days
Activities: The capital of the Kingdom, Vientiane, is more like a big village than a crowded Asian hub and life throughout the country is slow-paced. This trip also takes you further to the north-east with walking tour and river boat trip...
Tour Code: TL903
Duration: 3 days
Activities: On the way to the famous and sacred structure of That Luang Stupa, we stop to take some pictures of the imposing Patuxay Monument, which is well known as Vientiane's own Arc de Triumph...
High Quality Tour Service:

Free consultancy

Online communication

Affordable, refundable

Customized service

Flexible, changeable

Interaction with locals

Authentic experience

Deposit, pay on arrival

Clear cancellation term

... I cannot thank you enough for our three week tour in Vietnam which included a few days in Cambodia ...

Roy, Spain

... Thank you for a great trip in the north of Vietnam! It was really good and everything was organized so good! ...

Fransesca, Netherlands
Copyright 2023 by Tuan Linh Travel Co., Ltd.
A member of Vietnam Travel Promotion Group (
VTP Group
)
Address: Room 509, 15T2 Building, 18 Tam Trinh Str., Hai Ba Trung District, Hanoi, Vietnam (
See map
)
Tel: +84.24.62768866 / mail[at]tuanlinhtravel.com
Online: 150
Visited: 1967