For those travelers who like nature, mountains, forest areas with rustic life of hill-tribe, colorful market, ... please see our North Vietnam mountain tours
Tour Code: TL207
Duration: 5 days
Activities: With the perfect location in the centre of Northern Delta, Hanoi has been the capital of Vietnam over the past 1000 years. Many historic and cultural sites still remained and preserved, together with the hospitality of the people...
Tour Code: TL210
Duration: 8 days
Activities: This tour does include much driving and trekking and not suit lazy tourists. However the trip will take you to the most untouched areas, the off track destinations with beautiful landscapes of Ba Be Lake, Ban Gioc Waterfall...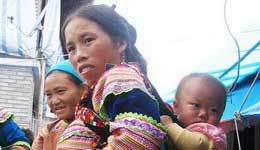 Tour Code: TL211
Duration: 9 days
Activities: During this cultural expedition, you will enjoy the best of Northern Vietnam in the areas of Mai Chau, Lai Chau and Sapa. The mountainous North West provides the perfect terrain for trekking routes.
Tour Code: TL213
Duration: 10 days
Activities: The exclusive tour covers the most fascinating places of the North. This is really the best choice for ones who have limited time to visit Vietnam. It is also the best choice for ones who not only want to discover the stunning scenery...
Tour Code: TL214
Duration: 15 days
Activities: This is a relatively long trip for travelers to visit North Vietnam. However, if there is more time then it is better, we will have more time to visit and relax. The program takes you from the capital of Hanoi to the remote mountains
Tour Code: TL221
Duration: 5 days
Activities: Our five-day golf tour includes the two finest golf courses in the North, sightseeing and shopping for non golfers. This golf tour allows you to immerse yourself in the post-colonial charm of Hanoi. You will also visit magical Halong Bay...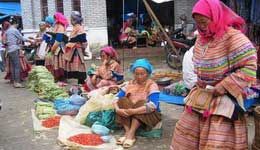 Tour Code: TL717
Duration: 3 days
Activities: Located in the far and high area in North Vietnam and own a special cool climate, Sapa is very well known among tourists. Bac Ha is the most well known local market, where several ethnic groups gather every Sunday to trade and meet one another.
Tour Code: TL716
Duration: 2-3 days
Activities: Located in the far and high area in North Vietnam and own a special cool climate, Sapa is very well known among tourists. People in this small town of Lao Cai Province still remains their traditions in dressing and cultivating...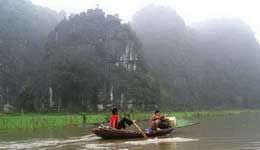 Tour Code: TL204
Duration: 1 day
Activities: Hoa Lu and Tam Coc are the two most favorite sightseeing places of Ninh Binh. Hoa Lu once was the capital of the country in Dinh Dynasty (968-1009); and Tam Coc (the Three Caves) are of the most beautiful caves in Vietnam...
Tour Code: TL215
Duration: 2 & 3 days
Activities: Conquer to the Fansipan summit - the roof of Indochina - is the dream of any adventure tourist. With our passion and hardiness we have once come over all the obstacles of weather, topography, etc., to get on the top of it...
Tour Code: TL205
Duration: 1 day
Activities: Cuc Phuong National Park is located in Ninh Binh Province, in Vietnam's Red River Delta. Cuc Phuong was Vietnam's first national park and is the country's largest nature reserve. The park is one of the most important sites for biodiversity in Vietnam...
Tour Code: TL206
Duration: 1 day
Activities: The Phat Diem cathedral complex was built between 1875 and 1899 in Phat Diem commune Ninh Binh Province. It comprises four churches and one basilica, as well as several parks, ponds and grottos...
Tour Code: TL203
Duration: 1 day
Activities: The main pilgrimage season at Chua Huong is during the Huong Pagoda festival, when hundreds of thousands of pilgrims make their way to Huong Tich Cave and the other temples. The longest lasting festival in Vietnam...
Tour Code: TL202
Duration: 1 day
Activities: The Vietnamese government has recognized about 1500 handicraft villages, of which about 300 are traditional handicraft villages. These villages maintain the country's handicraft heritage...
Tour Code: TL201
Duration: 1 day
Activities: Hanoi is the second largest city of Vietnam with total population of over 6 million people. As the capital of Vietnam for almost a thousand years, The enchanting Hanoi is considered to be one of cultural centers of Vietnam,...
Key tourist attractions in North Vietnam: Hanoi, Halong Bay, Hoa Lu - Tam Coc, Sapa. See more...
North Vietnam harbors some of the most magnificent views of Vietnam as well as the capital city and the chance to visit indigenous hill tribes. See more information about provinces in North Vietnam: Bac Can, Bac Giang, Bac Ninh, Cao Bang, Dien Bien, Ha Giang, Ha Nam, Hanoi, Hai Duong, Hai Phong, Hoa Binh, Hung Yen, Lai Chau, Lang Son, Lao Cai, Nam Dinh, Ninh Binh, Phu Tho, Quang Ninh, Son La, Thai Binh, Thai Nguyen, Tuyen Quang, Vinh Phuc, Yen Bai
High Quality Tour Service:

Free consultancy

Online communication

Affordable, refundable

Customized service

Flexible, changeable

Interaction with locals

Authentic experience

Deposit, pay on arrival

Clear cancellation term

... I cannot thank you enough for our three week tour in Vietnam which included a few days in Cambodia ...

Roy, Spain

... Thank you for a great trip in the north of Vietnam! It was really good and everything was organized so good! ...

Fransesca, Netherlands
Copyright 2017 by Tuan Linh Travel Co., Ltd.
A member of Vietnam Travel Promotion Group (
VTP Group
)
Address: Room 509, 15T2 Building, 18 Tam Trinh Str., Hai Ba Trung District, Hanoi, Vietnam (
See map
)
Tel: +84.4.62768855 / Fax: +84.4.62768866 / mail[at]tuanlinhtravel.com
Online: 304
Visited: 3641609