Daisy Village Resort & Spa
Daisy Village Resort & Spa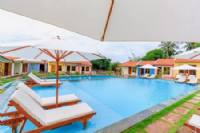 Address:
Group 7, Tran Hung Dao St., Duong Dong Town, Phu Quoc Dist,. Kien Giang, Vietnam
Email:
info@daisyvillageresort.com
Website:
http://www.daisyvillageresort.com/
With 58 bungalows situated on a sunny hill in the town of Duong Dong, Long Beach, overlooking the shore the beautiful the pristine.
Daisy Resort Village Resort & Spa with the idea of a small village, where the houses are colorful side by side, designed in the style of open space close to natural, environmentally friendly, quiet space for thought.
Daisy Village Resort & Spa is a the region market or the night market Duong Dong Phu Quoc less than 2km, barely to avoid the noise and bustling but not too far away (15 min walk), very convenient for the resort relaxation for individuals, couples and families.
We have a staff of professional, enthusiastic and friendl, will definitely bring to Partners and Customers satisfaction about the best services.
Daily breakfast included in the room rate
- 24 hours Front Desk
- Daily housekeeping included in the room rate
- Private bathroom for each unit
Benefit:- Daily breakfast
- Welcome drink
- Bottles of water, instant tea and coffee in room
- Free use of Wifi
- Free use of Fitness center
- Free airport transfer
- Free shuttle bus go to the beach

Thank you for you email. We did indeed have a wonderful time in Vietnam and I could not fault your service in any way ...


Everything went very well, the guides were excellent meeting schedule with professionalism and friendliness. The hotels and although they were not accounted for luxury, service and facilities were excellent level, ...

Copyright 2019 by Tuan Linh Travel Co., Ltd.
A member of Vietnam Travel Promotion Group (
VTP Group
)
Address: Room 509, 15T2 Building, 18 Tam Trinh Str., Hai Ba Trung District, Hanoi, Vietnam (
See map
)
Tel: +84.24.62768855 / Fax: +84.24.62768866 / mail[at]tuanlinhtravel.com
Online: 150
Visited: 1967